About
About The Good Room
"In order to be irreplaceable one must always be different"
-Coco Chanel
A celebration of the home, The Good Room is a design concept & retail experience for the quality- and style-conscious consumer, providing unique, eclectic home furnishings, accessories and giftware. I established The Good Room in 2011 because I found it increasingly difficult to source good quality furniture and fabrics in Dublin, especially on the northside of the city. I wanted to be able to readily offer clients the items that I found so hard to come by when I was designing. I constantly travel throughout Europe, to source new products and to grow my knowledge of interior design styles and techniques. Ireland has become a different place in the 21st Century but good quality and style are timeless. The Good Room offers a design service to clients from concept to completion and you are welcome to call in and ask for advice from choosing a paint colour to fully decorating your home. Your home is a reflection of your style and taste, we are here to help you achieve your dream home. I look forward to seeing you at The Good Room.
Jennifer Grace – Director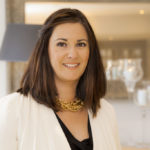 Jennifer Grace
Director
Jennifer has a wide range of skills and experience built up throughout her career in Marketing and PR with blue-chip companies such as Superquinn, Creative Labs & Savills HOK, but it is in the field of interior design that she has really found her true vocation.
Jennifer's passion for interiors started at a young age and her ambition was always to start her own design business with the strong belief that every individual already has the plan for their perfect home inside them. Jennifer looks to be the spark to develop those kernel thoughts into a reality for her clients.